Le Loop
Co-Wash & Shampoo Massage Brush
Le Loop's Co-Wash & Shampoo Massage brush is the perfect complement to your shampoo or co-wash! It will clean your hair and exfoliate your scalp while giving you a luxurious massage! Secret confession...we love it as a dry scalp massager after a long day!
Co-Wash: A wash method for curls. It's using conditioner only, combined with vigorous scrubbing, to clean your hair. It helps maintain natural oils and keep your curls shiny and healthy.
➰CURL FRIENDLY➰
Customer Reviews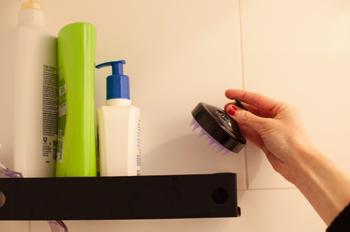 07/26/2021
Marvelous massage brush
This product gave me a heavenly scalp massage while washing! This is a must have product.
Lorie S.

United States
08/13/2021
Amazing Massage Brush
This brush feels so good on my scalp. I can tell it is much more gentle than using my fingers alone but it still provides a deep clean. The massage is incredible!
Iris

United States
08/10/2021
This massager!!!
Oh how I love you little scalp massager! Not only does it feel amazing but it really gets down to the root and makes me feel like my hair and scalp are actually clean. Super easy to use and definitely a favorite!
Elizabeth

United States
07/25/2021
Shower tool
I keep this in the shower and love how it feels on my scalp when I scrub with shampoo.
James

United States
06/10/2021
Scrubber
Product was just what I was looking for...very satisfied!
Stephen S.

United States