Le Loop
8 Pack Hair Spirals | Clear Air
You will love the versatility of Le Loop's Spiral Hair Ties! They are water-resistant, leave no creases, and are fabulous for play, working out, and creating a night-out updo! Extend and double them for a firm hold or leave them as-is for a relaxed hold. For curly hair, they make the perfect pineapple (see below). 
• Set of 8 Spiral Hair Ties | Hair Coils
• 1.25" to 7" expandable diameter 
➰CURL FRIENDLY
Pineapple:
A
ll your hair gathered in a high, loose spiral on top of your head.  By keeping your curls high up, they won't mat against your pillow and will remain fresh and frizz-free.
Customer Reviews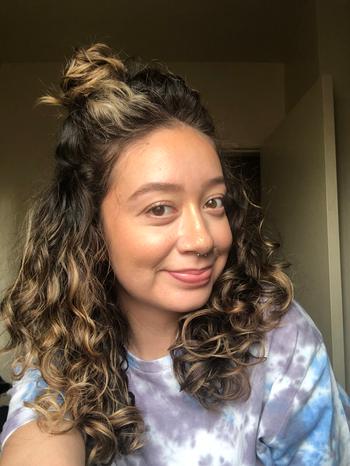 08/23/2021
the best hair spirals!!!
they also help me achieve the cutest half up half downs! :)
Celine

United States
09/08/2021
The best coils!
These coils are amazing! I have wavy/curly hair on the thinner side, and this is the only brand that doesn't pull out hair when I remove it! Looks super cute and the hold power is AMAZING!
Katelyn

United States
08/23/2021
i looooove using these! they never leave dents in my hair which is a huuuuge plus!
Celine T.

United States
08/13/2021
Love
These coils are great. I wasn't sure if they were the right product for me because I have straight thiner hair but they are fantastic. They hold so well in many different styles and are very gentle. I love the fact that they can easily be shrunk back to their original shape after they have been used.
Iris

United States
07/23/2021
My favorite hair accessory
These are perfect for everything you could think of. Working out? Yes. Casual bun? Yes. Half up half down? Yes. I LOVE these. Also look great on your wrist and they don't dig into your skin like other hair ties.
Juliana W.

United States