Le Loop
Katherine Clip | Blonde Tortoise
Le Loop's claw-style Katherine Clip is an everyday must-have perfect for pinning up thick hair. The 4-inch long jaws open over 2 inches wide allowing for a secure non-slip grasp of thick waves, curls, and natural hair. The long length spreads the teeth out making the clip extremely gentle and comfortable to wear without causing pulling or headaches. 
• Katherine Clip | Blonde Tortoise
• Oversized: 4" x  2"
About Cellulose Acetate: Like designer sunglasses, the Katherine Clip is made from polished, high-quality, plant-based cellulose acetate, an eco-friendly and durable alternative to petroleum-based weak plastic or acrylic. Each clip is unique with its own blonde tortoise pattern.
➰CURL FRIENDLY
Customer Reviews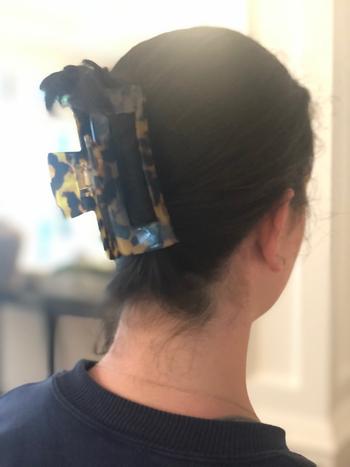 08/10/2021
Clip that actually holds!!
Just played tennis with this clip in and my hair didn't budge! Amazing!!!
Annabeth

United States
08/03/2021
Best clip I own hands down
I have VERY long thick hair. Nothing holds my hair. I buy the extra large hair elastics and my hair breaks them all the time. This clip is amazing. The square shape sits flush against my scalp so it's super comfortable and makes a tight hold on my hair. It stays in place all day! I even wore it to workout because it holds better than my other hair ties. This is a really fabulous clip for thick hair.
Ava P.

United States
06/04/2021
PERFECT for thick hair
I LOVE this clip. I have had a lot of trouble in the past finding a clip that holds all of my thick hair without strays. This clip does exactly that. A must-buy!
Jennifer

United States
09/08/2021
You need this!!
I was not expecting to love this clip as much as I do. It is very well made and sturdy yet fashion forward. And it holds all my hair!!
Sarah Y.

United States
09/01/2021
Great Clip Quality
These clips are awesome. Last time I bought clips from the store, they came with 2 teeth snapped off. These clips came well packaged and are made of a much stronger material than the generic, store-bought clips I had previously.
Jacob S.

United States