Le Loop
Juliana Clip | Sandstone
Le Loop's elegant Juliana Clip is a unique double-barreled claw perfect for medium to thick hair. The 3.75-inch long jaws open over 1.5 inches wide to hold a lot of hair and the interior barrel is hand-screwed with a second row of teeth for a more secure hold.
• Juliana Clip | Sandstone
• Oversized: 3.75" x  2"
About Cellulose Acetate: Like designer sunglasses, the Juliana Clip is made from polished, high-quality, plant-based cellulose acetate, an eco-friendly and durable alternative to petroleum-based weak plastic or acrylic. Each clip is unique with its own sandstone pattern.
➰CURL FRIENDLY
Customer Reviews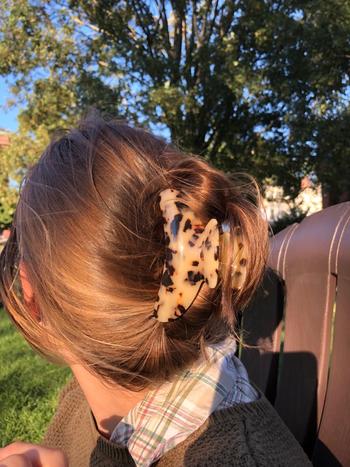 08/10/2021
Love this clip!
This clip is SO cute and comfy!! It holds all of my hair perfectly and the color is so flattering! The grip is great and it has just enough weight that it feels well made and substantial. I'll be recommending this clip to everyone!!
Elizabeth

United States
08/03/2021
I LOVE this stunning clip
I have several of this style clip from various stores. Nothing compares to this clip! Nothing. This clip is beautiful. The picture does not do it justice. It's classy and beautiful. I looks like a very expensive clip. I wore it to an evening event one night and then around town the next. It held my hair all day.
Carrie P.

United States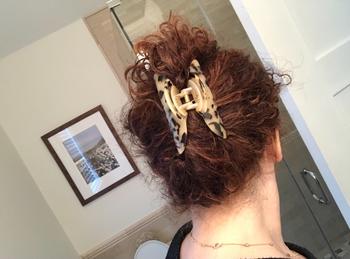 07/21/2021
Holds all my curls!
This is a great product. It is bigger than the average clip which is perfect for my hair. It is not too tight and does not ruin my curls when I take it out. Great for getting my hair out of my face and styling! Would highly recommend
Victoria

United States
09/08/2021
Buy it!
Great clip for all types and textures of hair. It has a double set of claws that actually holds hair in place. These are the best quality clips I have ever purchased!
Sarah Y.

United States