Le Loop
Satin Beauty Sleep Set | Pearl White
Le Loop's Satin Sleep Sets are the newest nighttime necessity. Our pillowcase, eye mask, and scrunchie soft satin, anti-aging fabric won't agitate your blow out, your curls, or your skin. The standard size satin pillowcase has a zippered closure for a beautifully tailored look. We specially designed our satin eye mask with a black backing to block out unwanted light and help you get the most of your precious beauty sleep. The soft, satin scrunchie is perfect to keep your hair off your face, day or night. For curly hair, it's terrific for a nighttime pineapple (see below). Wake up well-rested, frizz-free, crease-free, and ready to start your day! 
What's a pineapple? A pineapple is curls gathered up in one loose coil or scrunchie and placed fully on top of your head. At night, keep your curls fresh for the next day by not matting them against your pillow. Magic! 
Pearl White Set includes:
• 1 satin zippered standard size pillowcase 26"x20"
• 1 satin eye mask
• 1 satin hair scrunchie
➰CURL FRIENDLY
Customer Reviews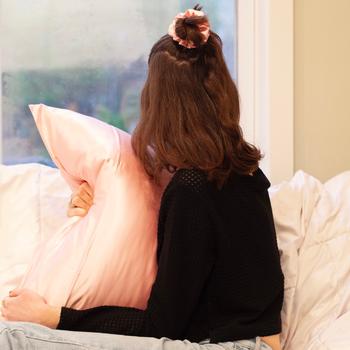 02/12/2021
Pretty in pink
I have had this set for a few weeks and I was skeptical that it would help reduce frizz but it really does. The smooth fabric lets my hair I guess glide somewhat so it doesn't rub against the pillowcase and make frizz. I use the scrunchie more during the day and it's really pretty in my hair.
Liz

United States
08/10/2021
Zzzzzz
This set is not only super cute but does wonders for my hair! Reduces frizz while keeping me looking cute! I wear the scrunchie outside of my bed and it looks really good and has great hold!
Elizabeth

United States
03/14/2021
Wake up with no bedhead!
I had been wanting a sleep set like this for a while but never expected such great results. I slept in braids a few times which usually I have to fix in the morning, but with this pillowcase, everything was perfectly smooth in the morning. I love the eye mask so much because it doesn't absorb all of my moisturizer like other masks I've tried. I definitely would recommend!!
Julia

United States
02/02/2021
PINK yes!!
such an adorable set!!! i looked just like the model in the pics hahaha!! I was soundly asleep and super cozy!
Lauren

United States