Le Loop
Spa Towel Scrunchies | Pearl White
Le Loop's Towel Scrunchies are the perfect complement to dry, wet, or soon-to-be wet hair! Their soft, highly absorbent, microfiber material speeds drying time. Extremely versatile, they are ideal during a bath, after a shower, after a swim, at the beach, in the gym, or in the yoga studio. Suitable for all hair types. For curls, they can be used as an alternative to our hair spirals for a pineapple, especially on wash days.
• Set of 2
• Oversized 6 inch diameter
➰CURL FRIENDLY 
Pineapple: All your hair gathered in a high, loose coil on top of your head.  By keeping your curls high up, they won't mat against your pillow and will remain fresh and frizz-free. 

Customer Reviews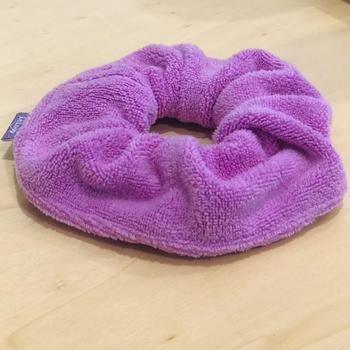 06/04/2021
Hair dries so much faster
Love these scrunchies for when I get out of the pool and beach! My hair dries so much faster...which is shocking for big curls. And they're sooo absorbent with such a pretty color!!
ally e.

United States
08/19/2021
Such a great idea for a scrunchie!
Not only is this scrunchie so soft but I woke up with no "dent" in my hair when I slept with it in! Also love that it comes with two in a package.
Annabelle

United States
08/16/2021
Post shower perfection!
These scrunchies are perfect for after a shower! Regular scrunchies get wet and gross, but this holds the water well and helps to dry my hair! Will be bringing these with me whenever I go to the beach too!!
Elizabeth

United States
05/05/2021
Great product
I have really thick hair and these have been great to use for drying! Big fan!
Diana C.

United States
04/27/2021
Loved this!
Shipping was SO FAST and the product is fantastic! Loved supporting a small, local business.
Amanda B.

United States